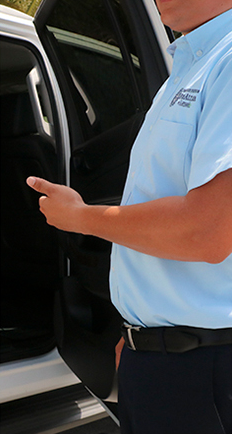 Hello, welcome to the # 1 choice for travelers, Feraltar - Cancun Transfers. We inform you that our services are available to any destination throughout Cancun and the Riviera Maya. When you arrive at the airport, after your trip, you will really appreciate our service, which is provided by our representatives, on board one of our vehicles.
Feraltar - Cancun Transfers, provides services to hotels, companies and the public with our Cancun Airport Transfers.
We offer the official service of Cancun Taxi, with this service can transport up to 3 passengers comfortably and safely.
Our Cancun Transportation service is carried out in Van Express vans, which are spacious and can carry from 1 to 7 passengers, Suburban are spacious and luxurious, can carry up to 5 passengers.
We have luxurious Cancun Limousines that can carry up to 8 passengers.
The prices of our Cancun Transportation services are available 100% online, with our reservation system you can purchase the service that suits you best. If you have not yet chosen one of our Cancun Airport Transportation services, do not worry, you can make the payment after receiving the Cancun Transfers price information, remember to have at hand the data of the type of service chosen, your destination, and a number of passengers that will enjoy the Cancun Transportation service.
At Cancun Transfers, all our vehicles are subject to the strictest quality standards, to ensure that you and your family travel safely with us while enjoying your trip to Cancun or the Riviera Maya.
Feraltar - Cancun Transfers, as part of its excellent service in Cancun Transportation, we monitor your flight to be awaiting your arrival at Cancun International Airport. We are your personalized agent, we will take care of every detail of your transportation, committing ourselves to be punctual to receive it either when you arrive at the airport or when you go to the hotel. Our representatives are qualified and are punctual, and are always ready to offer you a warm greeting as soon as they contact you upon arrival, taking care of every detail for your comfort and tranquility.
If you require a
Custom Transportation Service
offered by
Cancun Transfers
and cannot find it on our website, please do not hesitate to contact us through our
Contact Form
or call us toll free from USA / CAN at: 1-888-644-7803, Or dial free from Mexico at: 01 -800-837-1358 and from anywhere in the world dial: +52 (998) 295 0524. You can contact us through our online chat and one of our travel agents will gladly help you and answer all your doubts and concerns about our
Cancun Transportation
services. At Feraltar, we know that the needs of the customer are very diverse and therefore we have a
Personalized Transportation Service
with which you can create a service adapted to your transportation needs. Contact us now!