Cancun Airport Transportation | Private Transfers
Hola, welcome to #1 traveler's choice, Feraltar - Cancun Airport Transfers Company. Our Transportation services are available for any destination along Cancun and Riviera Maya. When you are arriving to Cancun Airport after a long flight you will appreciate one of our luxury, comfortable, air conditions vehicles, and enjoy being driven by one of our English speaking drivers.
Feraltar - Cancun Airport Transfers, serve hotels, businesses and homes with door to door service. Our private Vans can carry 1 to 7 passenger, our luxury Suburban can carry 5 passenger and our limousines up to 10 passengers. Fare prices are available online on our reservation system. If you're not ready to make your reservation, you can stop after you get the pricing information. In Feraltar - Cancun Airport Transfers, all our vehicles are subjected to the strictest standards of quality and safety to ensure the safety of your family while we drive around Cancun and Riviera Maya.
Feraltar - Cancun Transportation, starts taking care of you from the moment you board the plane to Cancun; we have capabilities to monitor your flight until the moment of your arrival to the Cancun International Airport. We are your personal concierge that will take care of you throughout your vacation; our qualified representatives are ready to welcome you as soon as you arrive at the terminal, covering every single detail for your comfort.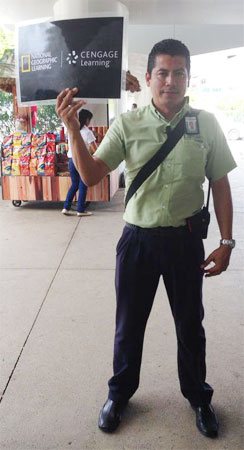 ---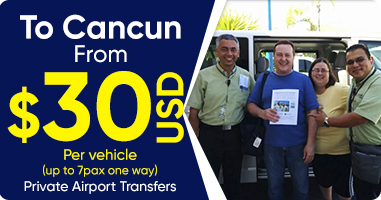 GREAT SAVINGS ON YOUR CANCUN TRANSPORTATION
---
Please be aware that taxis are not available at the airport. If you need a Cancun taxi service, try our standard transfer service this is a low cost private transportation from Cancun Airport to your Hotel in Cancun or Riviera Maya.
Remember that you can find us using the following keywords: Cancun Airport Transfers, Cancun Transfers, Cancun Transportation, Cancun taxi, Cancun Bus, Cancun Airport Transportation Services, Cancun Limo etc. Cancun Transfers is your best choice.
If you still asking you why you should book with us please consider the following:
All our Cancun Airport Transfers Services are highly monitored for your safety and convenience.
Our representatives are available 24hrs. At the Airport.
We are always On Time to transfer you to your hotel.
We have almost 30 years providing transfers services.
We have the lowest online prices available. GUARANTEED
We are the largest Cancun Shuttle Company with more than 250 vehicles ready and available. Go to our Cancun Airport Transfer Fleet section and see REAL pictures of our vehicles.
All services include: GPS system, to know the exact location of each of our units in real time, Vehicle with A/C, Speed control system in real time via satellite, 100% refundable 24hrs. prior to service, Extensive insurance coverage, No fees for flight changes and delays, Spacious vehicle for passengers and luggage, Professional bilingual driver, Flight monitoring, 24hrs. Customer Service.
Related Questions
What about the Cancun Airport Shared Transportation?
The Cancun Airport Shared transportation it's a way of go from the Cancun Airport to your hotel in Cancun Hotel Zone or the Riviera Maya. This service require a waiting time, because the vehicle should be full to leave the Airport. This service it's a Little bit more cheap than the private transportation service, but also offer less quality and benefits than the private.
The cost of the Cancun Airport Private Transportation it's for vehicle or per person?
All our prices of Cancun Transportation are per vehicle, not per person. That allows you can save more money if you came with all your family or friends. For example, if you book a private transportation service for 7 passengers, each one pay almost 4 USD for a one way service.
Is this a Official Cancun Airport Shuttle Service?
Yes, our company it's one of the official providers of Cancun Transfers, that is a guarantee of quality and safeness for yours. Avoid the use of un-legal services and book your Transportation from the Cancun Airport only with Experts.
What differences are betwen the Cancun Airport Taxi service and the VIP Transportation?
The most important difference is the vehicle, that's because on the basic taxi service, you will travel aboard of a Chevrolet Van Express, but if you book the VIP Transportation, you will enjoy of the comfort of a Chevrolet Suburban Luxury Edition. However that, all our services guarantee the best experience on your travel.